Kitesurfing lessons and our drive
How quickly someone learns how to kitesurf differs per person. The quicker you master the steps the quicker you are on a board. That differs per person. Our kitesurfing lessons are not only focussed on teaching you to go kitesurfing as soon as possible but especially aimed on safety so you can go kitesurfing independently and safely in the end. To master the basics of kitesurfing well, we advise you to do a three days course. After a three days course the average student will have sufficient control to go on independently. If you like some extra coaching after that we will make that possible. Our starting point and our drive is to teach you safe kitesurfing as soon as possible.
What can you expect from our lessons?
Location and assessing the wind
Powerkite to understand the feeling of steering a kite
Explanation windwindow
Rigging up the kite
Treatment safety system
Explanation kite and the use of signals
Steering, flying and lowering a kite and applying the safety system
Restarting the kite on the water
Performing a self-rescue
Down and upwind body dragging
Waterstarting in both directions
Kitesurfing and controlled stopping
Sailing upwind
…….Your first jump??……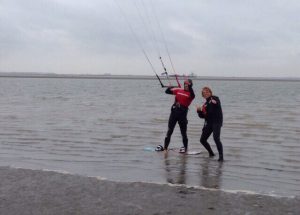 Questions?
From which age can I get kitesurfing lessons?
From 8 years old with a minimum weight of 35 kilos and in possession of a swimming diploma
At which location do you give kitesurfing lessons?
We mainly give our kitesurfing lessons in Zeeland, the Netherlands: Grevelingen, Krabbandijke, Oesterdam, Brouwersdam and Vrouwenpolder.
What if the weather does not permit to have a lesson?
We will try to plan in a new date as soon as possible.
How many lessons do I need to go kitesurfing independently?
This varies from person to person. But it is no exception that the first meters are made in the first lesson.
What are the schedules for the lessons?
As long as there is daylight we can give you lessons.
What do I need to take along to the kitesurfing lessons?
Swimming trunks/bikini and a towel, for the rest we have all the equipment. When you have your own surfing suit you can take it with you.
How can I pay?
The contribution is to be paid in cash in advance.
Can I cancel a kitesurfing lesson?
This is possible, we request you to do this ample time beforehand ( at least 48 hours) because of our planning.
Is kitesurfing safe?
Kitesurfing is a safe but also a risky sport. It is wise to take lessons so we can point out and keep you safe from the dangers.
When does the season start?
We start when the water temperature is warm enough, usually around March/April
Do you need to be physically strong to learn kitesurfing?
No, there are 6-year-old children who can kitesurf.
Powered by HTML5 Responsive FAQ